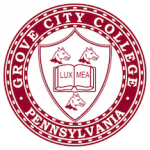 Website Grove City College
Grove City College is accepting applications for a full-time faculty position in New Testament Studies in the Department of Biblical and Religious Studies beginning in the fall of 2022 or 2023. Successful candidates must possess a Ph.D. in a relevant area, with seminary training and/or ministry experience desired.
Teaching responsibilities include general education humanities curriculum, as well as courses for undergraduate majors and, potentially, graduate students in New Testament studies, with the ability to teach koine Greek. Evidence of sustained teaching excellence and a proven track record of scholarship are highly valued. The Grove City College Department of Biblical and Religious Studies is a robust and collegial community of scholars. Candidates must be committed to teaching highly motivated students at a Christian liberal arts institution. We are seeking a scholar who affirms the infallibility and full authority of Scripture and who is passionate about teaching the Christian faith and mentoring students of all backgrounds. The candidate should be committed to working within a department that is largely Reformed in character. Rank and salary are commensurate with qualifications.
Application review will begin immediately and continue until the position is filled. Please submit:
·       A cover letter that details why you are interested in the position and an explanation of how your Christian faith represents a strong fit with Grove City College's unique mission as a Christian college (see http://www.gcc.edu/about/whoweare/Pages/Mission.aspx);
·       A statement outlining your teaching philosophy, which may focus on your motivation to teach at the undergraduate and/or graduate level, and/or thoughts about what constitutes effective pedagogy.
·       A current curriculum vitae, indicating educational record, employment record, achievements, awards, and publications. Please also describe any civic and church activities, as well as all current organizational membership.
·       Names of four references (three professional and one pastoral).
·       Official transcripts may be requested later in the process.
Please send all documents to Mrs. Jamie N. Kimble, Associate Director of Human Resources, Grove City College, 100 Campus Drive, Grove City, PA 16127-2104 or electronically to [email protected]
Grove City College is a private educational institution noted for its academic excellence where scholarship is informed by Christian principles. It does not discriminate on the basis of race, color, sex, national origin, age, ancestry, non-job-related disability, use of a guide or support animal, or any other basis prohibited by applicable law in the administration of its educational policies, admission policies, scholarship and loan programs, and athletic and other college-administrative programs.